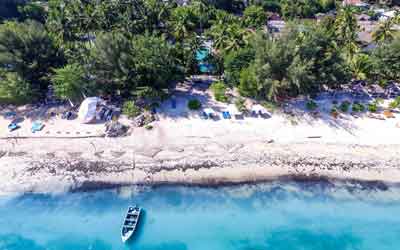 Of the three Gilis, this is the island closest to Lombok. With Gili Trawangan rapidly becoming famous as a party island and Gili Meno primarily catering to couples who want to have their space, Gili Air with its relaxed pace of life attracts social backpackers who prefer to dive, meet other fellow travelers or simply want to chill out.
Quite a number of partygoers after being tired from having crazy nights on Trawangan move over to Gili Air to do their dive courses in peace. The island still has more of a rural, established feeling than the other two, and it is no surprise that many locals seem to prefer living on Gili Air and that it has the highest permanent population of about 1,800. Most of the accommodation and other tourism facilities are on the south and east coasts, facing Lombok.
The boat landing is in the center of the south coast. A coastal path leads you around the perimeter of the island, and a leisurely stroll all the way around will take about 90 min. For such a small island, the maze of paths that criss-cross the island can get surprisingly confusing, but these always lead back to the coast path eventually.
Fast Boats to Gili Air:
Eka Jaya Fast Boat, Ostina Fast Boat, Wahanna Gili Ocean, Gili Gili Fast Boat
Schedule:
Available dates and times are displayed during the booking